The 10 Best Vehicles For Car Seats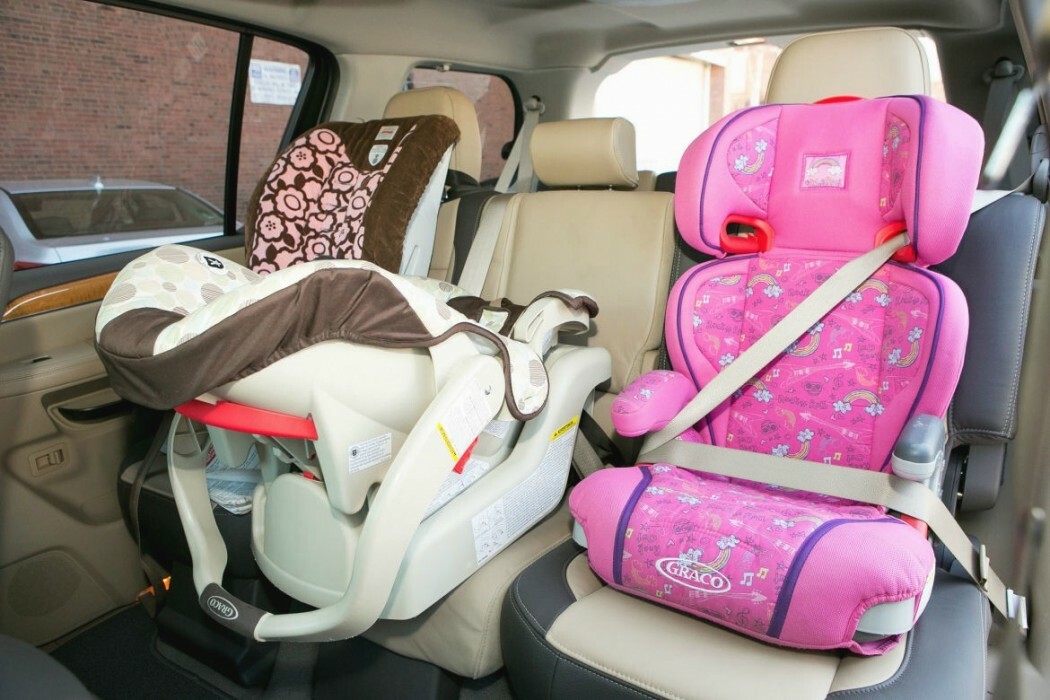 It shouldn't come as a surprise that crossovers and SUVs are the most popular vehicle choices for growing families. Likewise, coupes, sedans, and sports cars have a tougher time fitting in the car seats that eventually come with a new baby.
Don't despair, though. Just because you've decided to enter the formidable realm of parenthood, doesn't mean you need to sacrifice everything that's considered cool in your life.
Including your vehicle.
Our Top 10 list has a few, quintessential mom-mobiles on it, sure. But we've managed to find some sportier looking rides as well. They blend both utility and style and keep you looking as hip as possible while you drive the little ones around.
Thanks to its seats, the Toyota Camry is one of the best sedans on the market for handling a car seat. They have a flat bottom, so it's easy to find a good resting position for both infant and convertible seats. Plus its wide-set doors make transporting them in-and-out of the vehicle much easier than most sedans do. It's youthful-looking, fun to drive and it won this year's IIHS Safety Pick (another added bonus)!
While the Camry's child seat anchors were hard to find, the Volkswagen Passat's are quite the opposite. According to the IIHS, the ease of which you can find and use the Passat's Latch anchors is one of the best in the industry, earning the firm's highest rating (good). They're exposed and easily accessible, which means you don't have to go diving in-between the seats for them.
The Passat also hosts a large rear door which is perfect for transporting the seat in-and-out of the vehicle. With a lot of rear legroom and flat seat bottoms, it's a great choice for first-time parents touting around a car seat.
As far as safety features are concerned, Lane departure and front collision-warning systems are available, if you're willing to spend a little extra cash. They'll definitely give you peace of mind while you're cruising your precious cargo around.
Here it is. The quintessential mom-mobile. First of all, the sliding rear doors make car-seat transportation easy. Secondly, it's spacious seven-passenger interior is ideal for parents sporting more than one car seat and tons of cargo (like diaper bags and strollers). The Caravan also has three sets of lower Latch anchors, with all of them being reasonably easy to find. Lastly, there is easy access to the third-row bench seat, thanks in part to a large amount of space between it, and the second-row captain's chairs.
Besides the above, it has anti-odour/stain upholstery throughout the interior, as well as a DVD system with backseat monitors for the kids. It might not be the sports car you've always dreamed of owning, but it will definitely make your life a hell of a lot easier when it comes to toting kids, car seats and all the stuff that comes with them.
The Honda CR-V isn't your typical SUV, at least when it comes to the back seat. Rear passengers will enjoy all the extra leg and hip room they want, as will parents with rear-facing car seats. It also sports an extra anchor in the middle seat in the back, in addition to the already two sets of lower Latch anchors in the outside seats. This gives parents the option of installing a car seat in the middle if they want. And all the anchors are really easy to find!
It's a slick looking ride for newbie parents that are looking to keep some of their "edge." And like the Caravan, it also sports a rear-seat entertainment system which will keep the little one's engaged on those long road trips.
It's about as sleek looking as a minivan can get. The Kia Sedona's doors are huge and the load floor is low, which makes moving car seats in-and-out super easy. Most minivans have those captain-style seats in the middle which often can't be adjusted or folded. That is certainly not the case in the Sedona. The middle-row seat is easily adjustable (regardless if they're captain's chairs or a standard bench seat, both of which are options in the Sedona). Even the third row offers easy car seat placement and Latch anchors, which you don't often see in a lot of vans.
The biggest positive about the Edge is the fact that it's latch anchors are so easy to find. They sit just under the seat, which also reclines for even more visibility. The Edge also has a wide set of rear doors and a low load floor, which is one of the greatest benefits of purchasing a car-based crossover. Lastly, you can fit three – that's right, three car seats across the Edge's backseat. A huge plus!
When it comes to car seats, the Honda Odyssey knows what's up. First, its Latch anchors (three in the second row and two in the third row) are fully exposed, making them easy to find. Secondly, third-row access, something new parents will come to find extremely important when owning a minivan, is again, really simple. The second row slides out of the way while the door opens wide, making it an easy reach for anything you might need and a seamless move of the car seat, in-and-out of the vehicle. Simply put, it makes everything really easy. If you're looking to avoid complications, this is the van for you.
This compact crossover SUV is both spacious and sporty, a marriage which you don't often find. The Equinox's rear seats can slide forward, back and fold over, maximizing space for cargo and car seats. As well, it has two sets of exposed, lower Latch anchors in the back, making them really easy to find.The tether anchors (which rest midway down the back of the seat) are also an easy find.
As a seven-passenger, large-family-friendly crossover, the Pathfinder is an obvious pick. It has a large interior with a second-row of seats that are specifically designed to make accessing the third row easy. And yes, even when a forward-facing car seat is in play. All the Pathfinder's Latch anchors are accessible. Lastly, the second row provides tons of space for infant car seats and convertible ones, so much so, in fact, the front passenger seat doesn't even have to be moved forward to accommodate them.
We like this vehicle for a number of reasons. First of all, its quirky style and vibe keep you out of that "New Parent" box that some are hoping to avoid. Not only does it look edgy on the outside, it sports the room you'll need for the family on the inside. New families can install two car seats in the backseat, as well as a bunch of cargo. As well, the Kia Soul's Latch anchors are exposed and easy to use.
There's also an affordable 2015 electric version for families looking to be a little more eco-friendly. It's a good choice for those not quite ready to make the move to a full-blown mom-mobile.