First Time Buyer Programs: Which Dealers Have Them and How to Qualify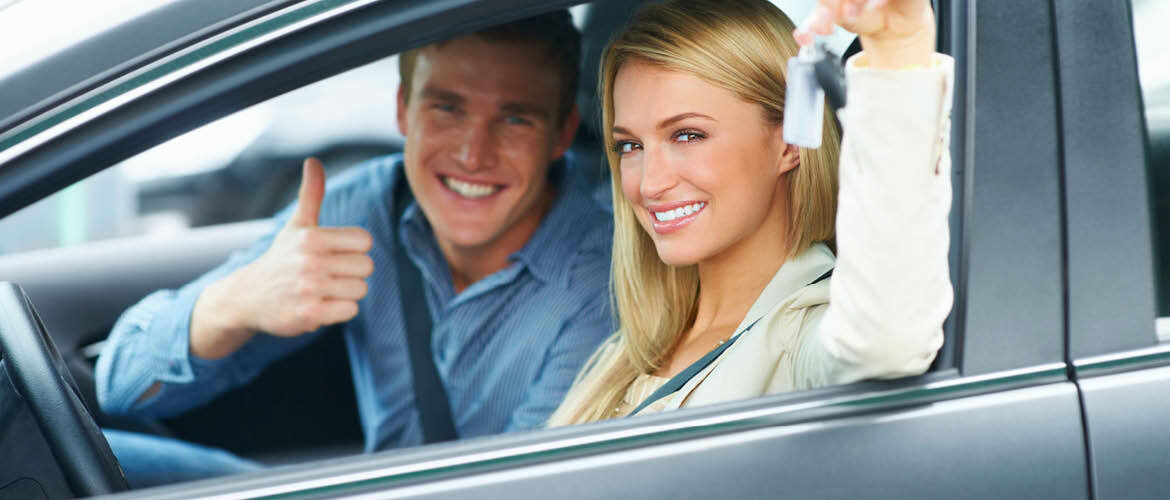 Buying a new car is an exciting experience, but it's not without its difficulties – especially if you're a first-time buyer. One thing that's particularly difficult about buying a car for your first time is securing financing. Why? Well, first-time buyers usually have marginal credit history, and without good credit history, loans are hard to come by. Luckily, car manufacturers recognize the obstacles faced by new buyers, and they've created first time buyer programs to help.
These programs offer rebates and favourable financing that will make it easier to afford the car you want. Below, we've listed some of the best ones available right now. Read on to find out if you can qualify!
Nissan
Nissan Advantage Program
First off, we have Nissan. Nissan Canada has two excellent first time buyer programs worth mentioning. The first is the Nissan Advantage Program. It's designed for people who've had trouble establishing credit in the past, and for those who haven't yet established any.
Here are the details:
The maximum amount that can be financed cannot exceed $30,000
Participants to the program must pay a minimum down payment of $1,500
You must provide proof of income satisfactory to the NCF at the time of purchase
Participants must submit an application with one reference
New residents to Canada must present one of the following:

Permanent Residency Card (SW1, SW2, SW3, SE2, PV2, FC, NV5, EN2, C1, C2)
IMM 5292 Form (Record of Landing)
Work or study permit/visa
Diplomat service

Non-landed applicants must present job contract and work permit.
You'll also be happy to know that the program is applicable to some of Nissan's most popular models. Specifically, the new or current model year Nissan vehicles that fall under this program are the following:
Micra
Versa Note
Sentra
Juke
Altima
Rogue
Nissan 1st Choice Grad Program
Another exceptional Nissan program is the Nissan 1st Choice Grad Program. To qualify, applicants must provide a diploma or degree from a minimum two-year accredited full-time program at a post-secondary institution. Applicants must also have graduated within the past 24 months, and must show proof of income. If you can't provide proof of income, you must at least prove that you're starting work within 90 days.
And get this, the program offers up to $1,000 in rebates on a range of Nissan cars, such as:
Altima
Armada
Murano
Pathfinder
Rogue
Sentra
Titan
Versa
… and much, much more.
Mazda
1st Time Owner Program
Next up on our list, we have Mazda. Mazda has two very similar first time buyer programs to the ones offered by Nissan. The first is the 1st Time Owner Program. It makes it super easy for first-time buyers to finance a new or certified pre-owned vehicle. Moreover, the program also offers first time buyers the alternative option of leasing a new Mazda.
To qualify, applicants must:
Have no prior auto finance or lease experience
Have no derogatory credit (no delinquencies, no charge-offs, and no judgments)
Provide proof of income
As well, applicants might also be required to make a down payment of around $500.
The program extends to some of Mazda's best vehicles, too. They include:
Mazda3 Sedan
Mazda3 Sport
Mazda5
Mazda6
CX-3
CX-5
CX-9
MX-5
Certified Pre-Owned vehicles
Under this program, you can get an extra $500 rebate if you buy either the Mazda3 or the CX-3.
But the best thing about Mazda's incentive programs? You can qualify for more than one at a time. That means that you can combine and enjoy the benefits of a couple incentive programs at time. So, if you're eligible, you could apply for both the 1st Time Owner program and Mazda's other first-time buyer program: the Mazda Graduate Program.
Mazda Graduate Program
The Mazda Graduate Program is tailored to Canadians who've graduated between April 30, 2015 and April 30, 2018 from an accredited Canadian university or college. Participants to the program are eligible to receive rebates on all new and certified pre-owned Mazda vehicles.
Eligible vehicles include both new ones as well as certified pre-owned ones. Here are all the eligible new vehicles and their rebate amounts:
Mazda3 Sedan & Mazda3 Sport: $500
Mazda5: $400
Mazda6: $500
CX-3: $500
CX-5: $400
CX-9: $1,000
MX-5: $1,000
Available certified pre-owned vehicles and their rebate amounts are:
Mazda2: $300
Mazda3 Sedan & Mazda3 Sport: $500
Mazdaspeed3: $500
Mazda5: $400
Mazda6: $500
CX-3: $500
CX-5: $400
CX-9: $1,000
MX-5: $1,000
B-Series Truck, RX-8, CX-7, Tribute: $500
To drive the point home, these rebates will be added to whatever other consumer incentive benefits you qualify for.
This program applies to graduates of just about any post-secondary institution in Canada. Undergraduate, post-graduate, masters and doctorate students are all eligible, but only if their program's minimum length was three years. As well, community college students are eligible if their program length was a minimum of two years long. Cegep students are also eligible. Lastly, you must provide an official transcript from their post-secondary institution, just to prove you were actually there.
Ford
Ford has some special first time buyer programs that make financing accessible and lighten the financial load for new buyers. Namely, the Newcomer Program, and the Graduate Program.
Newcomer Program
The Newcomer Program is open to:
Landed immigrants with Permanent Resident Cards IMM5688 or IMM5292
Foreign workers with a Work Permit IMM1102 or IMM1442
International students with Study permits IMM1208 or IMM1442
But don't fret, if you don't have any of these permits, you may still qualify for favourable financing.
Graduate Program
For students, Ford has the Graduate Program. It applies to pretty much anybody who has set foot on a university campus in the past two years. Specifically, eligible applicants must be:
Over 18 years old
A student who has graduated, or will graduate within the next four months from an accredited Canadian university undergraduate program, from a two-year college program, from a three-year Cegep program, or from certain military or police academy programs.
A full-time post-graduate student who completed a masters, doctorate, or PhD program from an accredited Canadian university within the previous 24 months
A full-time student who will graduate from an accredited Canadian university with a masters, doctorate, or PhD program within the next 24 months
Applicants to the Graduate program must also provide evidence of employment, like a current paystub. Or, if you haven't started your new job yet, you must at least show confirmation of future employment.
Honda
Graduate Program
Honda has a comparable Graduate Program to other manufacturers. Specially tailored to those recent grads with little or no credit history, this program allows graduates to qualify for a lease on Honda's entire lineup.
Eligible graduates are those who have attended:
Three to four-year accredited university program
Two to three-year accredited nursing program
Police or military academy
Community college
Furthermore, candidates must also have graduated within the past 12 months of their application date.
As far as credit requirements go, candidates:
Cannot have any adverse credit history
Must have verifiable proof of full-time employment, or a note from an employer that specifies a start date
Must have a monthly income sufficient to cover current obligations, expenses, and vehicle payment
Also, vehicle payments cannot be more than 20% of a candidate's gross income.
Fortunately, there's no down payment required. But remember to bring a copy of your diploma or a letter from the Registrar's office confirming your graduation.
Financing with Go Auto
Go Auto is in a unique position to make it easier to get just about anyone approved for a car loan. Whether you're a first-time buyer, or whether your credit history would make your grandma wary of lending you five dollars, we can help you finance the best car for your lifestyle. Just click here to get started.
Our in-house financing team has solutions for nearly every credit situation. As well, all our loans are reported to the major credit rating suppliers in Canada. That way, your creditors will be aware that you have a car loan in good standing.
What's more, Go Auto works with other world-class financial institutions. This assures you access to a wide array of options and the best car financing rates out there.
Finally, Go Finance can get you access to the all special offers put on by the many brands we're partnered with. That's more exposure to more deals than you can receive anywhere else. Let our finance experts work their magic for you. You'll be behind the wheel of your dream car in no time.
Stay Connected. Follow Go Auto on Facebook, Twitter, and YouTube!