Ranked: The Best 2020 SUVs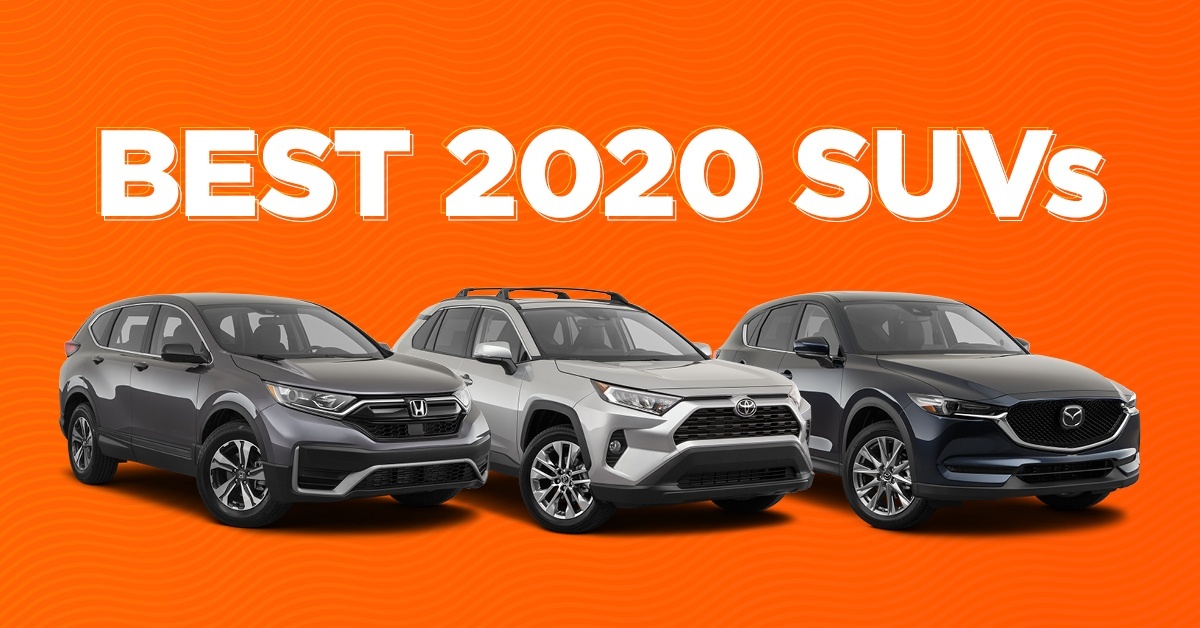 If you're curious about the best 2020 SUVs, you're not alone. This is by far the most competitive automotive segment on the market. Nearly every manufacturer is doing everything it can to outdo its competitors. But with so much going on, it's hard to keep track of who's doing what and what's the new "best buy". That's where we come in.
Within the next five minutes you're going to get a full rundown of the best 2020 SUVs, focusing on:
Most affordable
Best fuel economy
Most horsepower
Best towing capacity
The Most Fun-to-drive SUV
If you're in the market for a 2020 SUV in Canada, your decision is about to get a lot easier.
Let's go!

8. 2020 Jeep Cherokee
Go Auto Price: Mid-$30,000s to high-$70,000s [Click to shop]
One of Jeep's big home runs of the 2010's was bringing back the Cherokee in 2014. With nearly unlimited exploration capabilities and a luxurious interior, the Cherokee is the perfect blend of style and adventure.
Unfortunately, it's seen its sales decline in the last few years because it hasn't received a splashy overhaul since being brought back. But while some manufacturers are busy putting lipstick on their pigs, the Cherokee keeps rolling along because, well, its already good enough.
Forgive me for using this phrase, but the Cherokee is an SUV that needs to be felt to be believed. Pictures and blogs just don't do this vehicle justice. You have to sit in it to feel how comfortable it is. You have to experience how confident it will make you feel during haphazard road conditions. A YouTube video can't tell you how smooth the ride is.
The 2020 Cherokee offers such a relaxing ride, you'd never guess that its origins are in off-roading. So, if you're looking to off the beaten path, the Cherokee's a great choice for that, too. It's a big reason why it's one of the best 2020 SUVs.
Max Horsepower: 271
Towing Capacity: 4500 lbs
Fuel Economy: Hwy 7.6 L/100 KM & City 10.8 L/100 KM
7. 2020 Volkswagen Tiguan
Go Auto Price: Mid-$30,000s to mid-$40,000s [Click to shop]
In 2018, the Tiguan received such a massive upgrade that it felt like driving an entirely different vehicle. Canadian drivers noticed. Sales of the 2019 Tiguan spiked in a big way, breathing new life into not just Volkswagen's flagship SUV, but their entire lineup.
The 2020 Tiguan has so much tech that it makes everything so easy to use. A slew of drive-assist features gives you the confidence you need to drive in any situation: heavy snowfall, slippery roads, iffy gravel areas, you name it. If you're looking for peace of mind in a comfortable, reliable ride, consider the Tiguan. It comes with adaptive cruise, blind spot monitoring, light assist, lane assist, front assist, area view, park distance control, and rear traffic alert. Just to name a few.
It's not hard to see why the Tiguan was Volkswagen's top seller in Canada last year.
Max Horsepower: 184
Towing Capacity: 1,500 lbs.
Fuel Economy: Hwy 8.1 L/100 KM & City 10.5 L/100 KM
6. 2020 Mazda CX-5
Go Auto Price: Low-$30,000s to mid-$40,000s [Click to shop]
By and large, the 2020 Mazda CX-5 is considered the most fun-to-drive vehicle in the SUV segment. For that reason alone it's one of the best 2020 SUVs. It handles extremely well for its size, its got the most pep of anything on this list, and it just delivers the most dynamic experience. If you're in the market for a sportier SUV in 2020, the Mazda CX-5 should be your first choice. If you're looking for something a little more family-oriented, the CX-5 falls behind some of its counterparts. For those, just keep reading.
We have the CX-5 ranked as #6 on this list, but it really depends on what your specific needs are. If you have a smaller family (say a couple and a dog), the CX-5 is absolutely perfect. If you need your SUV to do a lot of different things, make sure you test a few different models in addition to the Mazda.
That being said, this is often Mazda's best-selling model in any given month. It plays a game of leap frog with the manufacturer's other powerhouse, the Mazda3.
Max Horsepower: 187
Towing Capacity: 2,000-3,500 lb
Fuel Economy: Hwy 7.8 L/100 KM & City 10.2 L/100 KM
5. 2020 Hyundai Tucson
Go Auto Price: Mid-$25,000s to high-$30,000s [Click to shop]
If you're looking for a extremely affordable SUV, the 2020 Tucson is the best place to start. If you're looking for a smaller, family-friendly SUV, the 2020 Tucson is a great place to start.
The Tucson has improved so much over the last few years that it's actually overtaken its big brother, the Santa Fe, in terms of sales. Why? An attractive exterior, a fun drive, and let's be honest: the best price point in the segment.
If you're in the market for a larger SUV, the Tucson isn't for you. It's on the smaller side, which makes it perfect for smaller families. It's more about practicality than performance, in other words.
In a nutshell, the 2020 Tucson does everything well, but it doesn't outperform the rest of the segment in any way. It's an easy drive, it looks really sharp, and it barely cost more than a car. In a competitive segment of best 2020 SUVs, it certainly stands out.
Max Horsepower: 181
Towing Capacity: 1000 lbs.
Fuel Economy: Hwy 7.9 L/100 KM & City 10.0 L/100 KM
4. 2020 Nissan Rogue
Go Auto Price: High-$20,000s to high-$30,000s [Click to shop]
Like the Cherokee, the 2020 Nissan Rogue is another aging model that keeps performing well in a crowded market. Despite how ferociously competitive the SUV segment is in Canada, the Rogue continues to sell extremely well due to its stellar reputation.
That being said, the Rogue is in line for a revision in 2021. This makes the 2020 model extra attractive for two reasons: 1) if you're a fan of this series and want to upgrade before Nissan makes any changes, and 2) you're likely to see heavy discounts on this version as they prepare to introduce the new model.
Despite being the 4th-oldest model in its segment, we're hard pressed to find fault with the 2020 Rogue. It's probably the least powerful SUV in this least, but the difference from high end to low end are pretty marginal (unless you're talking about towing capacity). But on the other hand, it offers the best fuel economy in the segment. It's packed with a bunch of great technology, like the semi-autonomous driving system, ProPilot Assist. It comes standard on the top-end trims like the SL Platinum, but fortunately it's been made available this year on lower-end trims, as well.
Max Horsepower: 170
Towing Capacity: 1100 lb
Fuel Economy: Hwy 7.1 L/100 KM & City 9.1 L/100 KM
3. 2020 Ford Escape
Go Auto Price: High-$20,000s to mid-$40,000s [Click to shop]
Whether you buy a 2020 Escape likely will come down to one thing: are you a Ford driver or are you not?
Ford probably has the most reliable fanbase of any manufacturer in Canada. Ford drivers are Ford drivers, which goes a long way to explain why the Escape has maintained its impressive sales numbers despite its aging body. It's a model that has definite high points, like how dynamic the drive can be, but it also has flaws, like its modest highway fuel consumption numbers.
But here's where things get good.
The next-gen 2020 Ford Escape is a big step up. After test driving it, we're confident that it could finally challenge the 2020 CR-V for the best-selling SUV in 2020 across Canada. Why? The ace up its sleeve. The 2020 Escape has a three-cylinder EcoBoost with cylinder deactivation. The result is a peppy drive that is perfect for the city.
Max Horsepower: 180
Towing Capacity: 3,500 lb
Fuel Economy: Hwy 7.6 L/100 KM & City 9.0 L/100 KM
2. 2020 Honda CR-V
Go Auto Price: Low-$30,000s to mid-$40,000s [Click to shop]
Surprised to see that the 2020 Honda CR-V isn't our number one? Considering the '19 topped our list last year, we are too. That being said, it's still the best-selling vehicle on the list and a fantastic choice for anyone looking for any SUV of any kind.
If not for the #1 car on the list, the CR-V would be running away with the segment in terms of sheer sales figures. It's a mature model and more than well-proven (with multiple Best SUV awards to its credit). Anyone who buys a CR-V knows they're getting a top-quality vehicle. That's the real draw here.
Truly, the CR-V doesn't actually do anything much better than any other vehicle in the segment. But it does everything really well. The only thing it really has over the competition is its cargo capacity, which, at 2,146 litres, is just huge. It's the most family-friendly SUV on the market, which is the reason it always comes out on top.
If you're looking for the Best 2020 SUV in Canada, the CR-V is the default answer.
Max Horsepower: 190
Towing Capacity: 1500 lbs.
Fuel Economy: Hwy 7.0 L/100 KM & City 8.3 L/100 KM
1. 2020 Toyota RAV4
Go Auto Price: Low-$30,000s to mid-$40,000s [Click to shop]
Move over, CR-V. It's the RAV4's time in 2020.
Completely revised last year, the RAV4 continues its upward trajectory for the 2020 edition. Now, it reigns supreme in the most competitive market in the industry. Even more refined this year, the RAV4 will continue to convert customers throughout 2020.
How much of a jump did the RAV4 take last year? It increased sales by nearly 25%, and if we have any say over it, that number will only keep rising.
The quality is even more evident in the 2020 model. Especially on the interior, where the dashboard benefits with much better materials, extra technological benefits, and elite presentation. It's loaded with smart tech that simplifies your drive: you can start your car from your phone, you get embedded navigation, you can connect to a live agent for any question at any time, it has an outstanding JBL audio system, a digital display rearview mirror, a power back door, eco drive monitoring, a smart key system, versatile storage, premium styling, and so much more.
The Best 2020 SUV in Canada is the Toyota RAV4. Don't believe us? Book a test drive to find out.
Max Horsepower: 203
Towing Capacity: 1,500-3,500 lbs.
Fuel Economy: Hwy 6.8 L/100 KM & City 8.8 L/100 KM