How to Cash in With Auto Car Traders
Get higher trade-in prices from auto car traders, speed up the dealership process with those same auto traders, and find your trade-in value for car traders online
Get an Online Trade Estimate in Minutes
You can get a better-than-market price for your vehicle when you trade-in with Go Auto. Why? Because we have more than 40 locations across Canada. As a result, we accept any brand, from any year, in any condition. Get started today with a trade estimate, online, from the comfort of your couch!
This estimate is based on trusted, independent Canadian Black Book data. The most trusted car value estimator in the business for over 50 years, Canadian Black Book can reliably tell you the value of your used car, truck, van, or SUV. Not what you can expect it to be worth later this year, or even this month, but today.
Trade estimates are further refined based on the value of similar vehicles nearby. If auto car traders are looking for your model, your trade-in price will likely be above market value. You may even get a potential offer from a dealership to purchase your vehicle after getting your online estimate.
Make a trade, and get paid, today!
How Trade-in Value is Decided
There are a number of factors that come into play when auto car traders are determining the value of your vehicle. Factors include the make and model, year, KM on the odometer, overall condition, inventory levels, and desirability of the car in the marketplace.
YEAR
Generally speaking, the newer the vehicle, the better the trade-in value will be. Not only are those vehicles more likely to be in better condition, but car buyers prefer newer vehicles. Dealerships are also likely to pay a bit more because they anticipate a quicker sale.
MAKE AND MODEL
The make refers to the manufacturer of your vehicle, and if it happens to be one known for reliability (Kia, Infiniti, Hyundai) then your trade-value is going to be better. That being said, not all models are created equal. Due to popularity, the Hyundai Veracruz will depreciate faster than the Santa Fe.
KM ON THE ODOMETER
As the number of kilometers on your odometer goes up, the trade-in value of your vehicle goes down. Even if you've taken great care of your vehicle, the optics aren't great. High mileage usually means consumers will be less interested.
DESIERABILITY
Canadian Black Book considers how popular your car is with current consumers. As an example, Honda Civics have been the best-selling vehicles in Canada for more then 20 straight years. They will be highly-valued at every dealership, guaranteed.
CONDITION
The most important factor for auto car traders when determining your car's value is its condition. If it looks like a lemon, and smells like a lemon … you know the rest. How your vehicle looks is just as important as how your vehicle performs, but luckily, there are a number of easy things you can do to improve the condition of your vehicle prior to trading it in. Read below!
6 Easy Ways to Improve Your Trade-in Value
Before you visit auto car traders with your potential trade-in vehicle, there are handful of things you can do by yourself that will go a long way to making your vehicle more presentable. We're not talking about replacing your engine or changing the color. These are relatively simple fixes that shouldn't cost you a lot of money.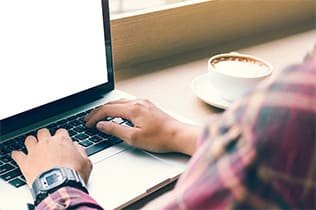 1. Get an Online Estimate First
When we offered you a free online trade-in estimate before (scroll up if you missed it), we weren't just doing it for your convenience. Knowing the average trade-in price for your vehicle is great when it comes to negotiating a deal with a dealership. All you have to do above is tell us the year, make, and model of your vehicle. It's that easy, and you'll have a leg up in negotiations with any auto car traders.
If you're willing to do some research, you can also check out dealership sites in your area to asses the local market. Visit Kijii, too, to see what people are charging in private sales. Do whatever you can to find a bargaining chip.
However, be honest with yourself about the condition and desirability of your vehicle. Consider its mileage, service history, accident history, color, age, etc. Overestimating your own vehicle can complicate the sale process, if you're not willing to budge from a price that's unrealistic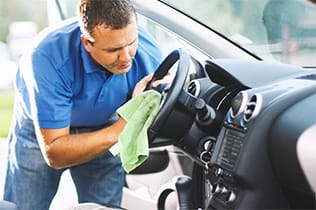 2. Detail Your Vehicle
The easiest way to improve your trade-in value is to give it a deep cleaning. Even if the dirtiness is surface-level—stains on the seats, sticky cupholder, old food under the seats—it makes the car look old and uncared for. It's also not a stretch for the dealer to assume you also haven't ever rotated your tires, if this is the kind of effort you put into your vehicle. Vacuum the floors and seats, wipe down the dash, and give your car a vigorous wash and wax.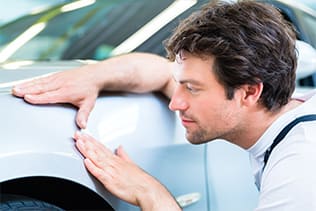 3. Pop Out Any Dents
Dents, dings, scratches, and other imperfections to your car's exterior will always bring down its trade-in price. Luckily, these likely aren't difficult to work out. Either pay to have them repaired before your trade-in assessment or pop them out yourself (if you have the tools).
Scratches are more difficult to fix, however. You could pay to have these dealt with before a trade-in assessment, but the extra money you spend might just be offset with any increase in trade value. It might be a wash, so getting these dealt with is up to you.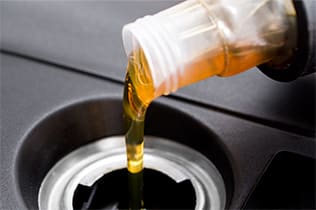 4. Fix the Small Things
Make sure you've tackled the things that regular maintenance is supposed to take care of. Top up your oil, replace your filters, make sure your windows work properly, etc. This isn't to say you have to address every single issue with your vehicle, but do what you can to make your car presentable for a 20 minute inspection.
Using a modest budget, repair obvious flaws like blown taillights and wonky turning lights. Do that, and your trade-in value is very likely to increase.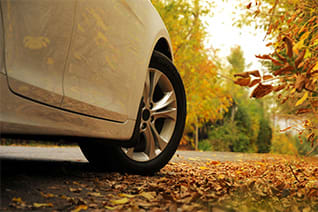 5. Make Sure Your Tires are Presentable
How old are your tires? When was the last time you had them rotated? Have you been using them year-round? How does the tread look?
These are the questions you should be answering before your trade-in assessment. If your tires are in bad shape, you could benefit from replacing them with a new, inexpensive set. If a dealer is going to sell your car, then they'll have to replace your ratty old tires. That cost comes out of their pocket, and this is one of the first places a dealer will point to when knocking down your value (because it's so easy to catch and it's incredibly important).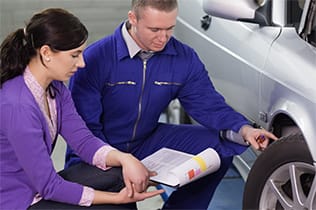 6. Bring Your Service Documentation
Demonstrate your responsible car ownership by bringing a record of all the maintenance you've had done to your vehicle. Everything from oil changes to engine repairs to tire rotations to transmission flushes. It's all important. If the dealers like what they see, they'll pay you more for your vehicle. If you haven't kept your own service records, that's okay. Just contact your dealership or repair shop and they will be able to provide them all to you.
Better yet, if you're car has never been in an accident, bring the documents to prove it (through Carfax Canada).
4 WAYS TO SPEED UP YOUR TRADE-IN PURCHASE WITH AUTO CAR TRADERS
Let's make one thing clear: don't rush through a vehicle purchase. It's a big expense and one of the most important choices you're going to make this year. So, take as much time as you need to ensure you make the right decisions for you and your family. That being said, there are some things you can do to speed up the parts of the process that just take up a lot of time. If you're interested in saving yourself a few hours at the dealership, here are some things you should do.
1. SET A BUDGET AND STICK TO IT
It's remarkable how much time people take deliberating about the cost of a vehicle while at the actual dealership. They have a rough idea about how much they want to spend, leaving room for leniency once something newer and shinier comes into view. Once you start to waver between two cars (or three, or four) you can waste a ridiculous amount of time simply waffling between vehicles.
Setting a budget can help you in several ways. Firstly, and most importantly, it keeps you from overspending. Secondly, it will narrow down your choices. By restricting yourself to cars in your price range, you'll eliminate a significant amount of the waffling we're talking about.
Do an honest calculation of your financial situation and determine a reasonable amount you can spend. Not the maximum amount, but a reasonable amount you can pay off with relative ease. That's your limit – don't go above it. It's all too easy to get carried away and purchase a vehicle that's beyond your means. Be realistic and be insistent on staying within your budget.
2. DETAIL YOUR VEHICLE
So you know that you want to trade in your vehicle for something newer, but do you know what you're looking for? Go a bit deeper than "something bigger" or "something with all-wheel drive." Of course, you want something that's dependable, that can handle tough winter conditions, and can fit all your stuff. But what are the daily features you would love to have?
Consider looking for a vehicle with the following:
Better fuel economy
Advanced safety features
Good resale value
An infotainment system you like
The power/agility you need
Once you've decided on what you want, try to rank them from most to least important. Depending on your budget, you might have to compromise and lose a thing or two. Knowing your priorities beforehand makes last-minute decision a lot easier. It also lets the auto car traders you're dealing with find a new car that fits your exact standards. Knowing what you want and what's important will do a lot to speed up your car purchase.
3. DO YOUR RESEARCH
95% of car purchases start online now. If you're one of the lowly 5%, you're missing out and wasting time. You shouldn't go to the dealership without knowing at least a little about what you're looking at. The more you know, the better off you'll be, and the sooner you'll be outta there. Trust us, no one enjoys sitting in a dealership for hours on end. There's only so much of the weather channel a person can take.
All you need for this step is the internet. You're already here, so well done. Read reviews of cars you're interested in, compare prices, and arm yourself with as much information as you're comfortable with. Since you're already at GoAuto.ca, just browse through our inventory to compare vehicles you like. We have more than 11,000 rides online all the time, from more than 20 brands, so cross-comparing is easier here than anywhere else in Canada.
If you're feeling overwhelmed, you can always speak to one of our Happy to Help personal shoppers. They're a 24/7 support team who can help you find vehicles, compare prices, find you the best deals, inform you about current offers, book your appointments, pre-approve your credit application, and more. You can reach them online through the chat box that pops up on GoAuto.ca, or by text/phone at 780-777-7777.
4. BRING EVERYTHING YOU NEED
You can always phone the dealerships beforehand to find out what you're supposed to bring. But normally, they'll ask for:
Driver's license
Recent paystub
Employer's information
Previous addresses
Proof of ownership (with your trade-in)
If you're going to require a loan, get pre-approved for credit beforehand. Either contact your bank or call our Personal Shoppers at 780-777-7777 and they'll find you the best rate available. Our in-house finance team will work to ensure you get your new wheels fast.
In short, having all the right paperwork on hand will speed up your car purchase considerably.
Why Trade-In with Go Auto
We have more than 40 locations to sell your trade-in vehicle at, so we'll always pay more than our competitors for your trade-in. No trade-in vehicle goes unsold with Go Auto! We always find a buyer, and fast.
We offer fast and free appraisals, and we'll buy your vehicle even if you don't want to buy something us. Trade-in purchases are NOT necessary. Plus, we can get you the cash for your trade-in on the same day. So, there'll be no need to worry about settling payment with a private buyer.
To get started, get an online estimate and we'll contact you about buying your ride at better-than-market value!